Save by comparing link prices
An SEO tool for buying links at the best possible price
Want to save time and money on your linkbuilding campaigns? Optimize your resources with dSEO.pro! Get the links you need at the best price, saving time and money along the way.
For a small monthly fee you will have access to the price comparator where you can see which platform is cheaper to buy each link, we control the prices of 17 platforms, also will show you the replicable links for free. You will also receive a contact email, in case you are one of those who prefer to contact you directly without going through the platforms, something that will be extremely useful for your linkbuilding strategies and also to know how much your competitors are spending on links.
How does the link comparator work?
It is as simple as typing or pasting a list of domains or urls and with a single click you will have the different prices of the link selling platforms or reviews, domain data, as well as contact email.
dSEO allows you to configure which platforms you want to use, as well as apply the discounts you have in any of them.
In addition, you can now use our Link Hunter, where you can write down the links you want and the maximum price you are willing to pay and when any of the platforms adds it or lowers the price, you will receive an email so you can take advantage of the opportunity. And the Domain Hunting that will notify you by email if a domain is free for purchase.
Is it worth paying for the comparator?
If you are planning to buy links or reviews and you are asking yourself this question, the answer is simple YES, you will be surprised of the great difference in prices that you can find between platforms, it is not that one is always the cheapest, but it depends on the place or media where you want to publish.
By comparing prices before purchasing you can easily save hundreds of euros. In the vast majority of cases you will have already amortized the monthly payment by just buying one review.
But… compare prices, can I do it?
I don't doubt that you can compare prices yourself, but dSEO will take care of the task in a much simpler way and with updated prices, so you can use the time you save in other more productive tasks. Time is always money.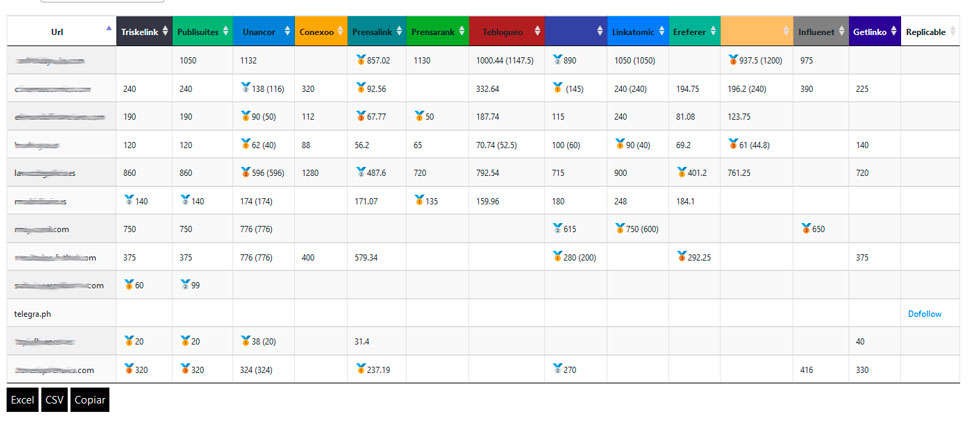 Pricing options available
Competitive Analysis
forever